Leisure
There's never a dull moment when you stay at the Red House Hotel, with our sports and leisure facilities, to ensure that your visit, will be fun filled.
It's almost impossible to find a full sized snooker table these days but we have three available, all day and evening, to fill in these in between hours.
If fitness is your thing, there is a newly upgraded, state of the art gymnasium, which is available to residents and non residents and a squash court, should you feel competitive.
In our bar area you can enjoy the more traditional pub games - pool, darts and dominoes - and there are a full range of music and sports channels, on our many televisions, including our 3D Flatscreen to watch all those important matches!!
Squash
Our Squash Court is available from 10am until 8pm for residents and non-residents, so if you're feeling competitive why not come along for a game. The Squash Courts can be booked at Reception or at the Leisure area and are quite popular, so advanced booking is advised.
Snooker & Pool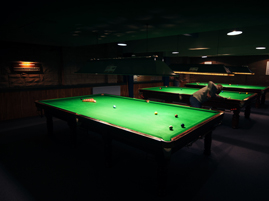 3 full size snooker tables available from 10am until 11pm. So many snooker players are having difficulty in locating a table in the Tayside area but that is never a problem at the Red House Hotel.
We have three full sized tables, in a quiet, designated room in the Nortel Leisure complex, part of the Hotel, which are increasingly well used.
Booking ahead of your visit is strongly recommended to avoid disappointment, with Perth no longer having a table, demand is growing fast.
Our tables are brushed and ironed every day, making sure that the nap of the cloth is consistent, so that you can get a feel for the table, over time.
Memberships are available for the Nortel Leisure facilities, which include discounted snooker charges but the tables are available, to all.
Advanced booking is essential.
Gym
Why not come along to our state of the art Gym for a workout, open from 9am until 10pm daily.
Ladies and Gents Saunas are open from 9am until 10pm. Our Saunas are also available to allow you to relax and unwind after your workout or just to ease the stresses of the day.
Live football from the English & Scottish Premier Leagues with Sky Sports and Sky Sports 3D in the Nortel Bar.